Alexandra (Framboise) BOËL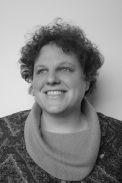 With a degree in law from the Catholic University of Louvain in 2000, Alexandra BOËL has been exercising the profession of lawyer, specialised in civil and commercial law, at the Brussels Bar since 2001.
Since 2009, Alexandra BOËL is also a mediator in civil and commercial matters, accredited by the Federal Mediation Commission.
This training as a mediator, reinforced by the experience she has gained as a member of boards of directors, have allowed her to develop her listening skills, her preference for consensus and for pragmatic and balanced solutions at the service of her clients.
Languages: French and English